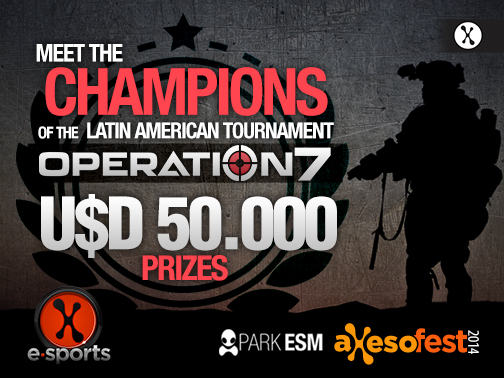 For inmediate release:
Last weekend   was  the  axesofest at Lima, Perú with the most bloody battle between the final challengers from each country to gain the 50.000 USD in prices. 
A few weeks ago, we informed you about the Open online tournament, which classified to the final´s at axesofest. From that day,  at August 9th was the Open Precian made. The winner teams gain a place for the final tournament, before playing a bunch of encounters with great teams, the winners are listed below:
+You can watch the tournament how it was on this site.
All the champions from Perú, México, Colombia, Chile, Argentina and Venezuela among with the finalist from the Open tournament, struggle with cold blood at the final battles with Operation 7 at the axesofest face to face, facing the death from their partners between shootings and online gaming.
The best teams form this Latin American battled with the feared team xNANOSx from Colombia and ReborN, both of them went to the finals, playing into the ¨Deathmatch, map industry town a 100 deadths¨ mode. From this fearless fight between both clans among high concentration from them and cold blood, the Colombians xNANOx  won the tournament on the edge. ReborN exauzted and with the strings pulled out, the xNANOx with passion to won at all cost gain the Operation 7 podium. They became the two times champion of the videogame winning  15.000 dollars.
The final Latin American positions of the tournament are:
- First place: xNANOSx (Colombia – $ 15000 dollars).
-Second  Place: ReborN (Perú - $ 8.000,00 dólares)
-Third place:LosDel7 (Perú- $ 5.000,00 dólares)
-Fourth place: zLegendHS (Perú- $ 2.000,00 dólares)
You can watch the tournament how it was at this Streaming.
We congratulate xNANOSx  for his excelent performance at the Operation 7   E-sports 
For further information please go to the oficial website tournament.